After peak renaming, sainthood could be next for Black Elk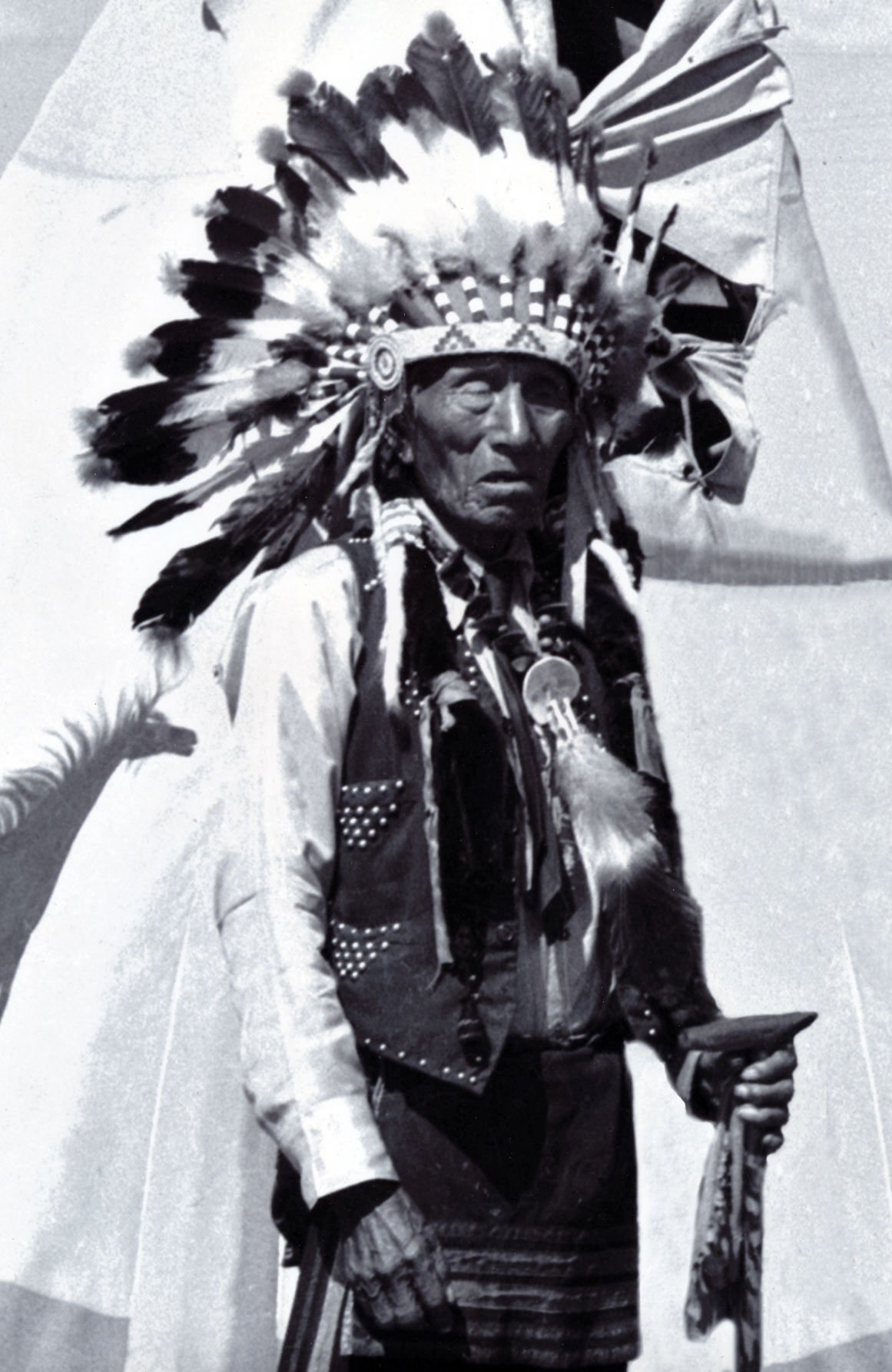 Sainthood could be the next honor for the late Lakota holy man whose name was recently affixed to South Dakota's tallest peak.
A drive to canonize Nicholas Black Elk appears to be gaining momentum. In March, some of his living relatives presented a petition to the Catholic Diocese of Rapid City. The petition, bearing 1,600 signatures, requested that the bishop of the diocese nominate Black Elk for sainthood through a process known as canonization.
"There are many who are waiting to share the joy of the day when Nicholas Black Elk, Sr., will be counted among the company of saints by Holy Mother Church," the petition said, in part.
The petition was presented to Bishop Robert Gruss and Deacon Marlon Leneaugh, the diocese's director of Native Ministries, by a group that included Black Elk's oldest living grandchild, George Looks Twice.
Black Elk is well-known to many Catholics and religious scholars and to readers of "Black Elk Speaks" and other books about him. His profile was further elevated in August when the U.S. Board on Geographic Names renamed Harney Peak, a 7,242-foot mountain in the Black Hills, to Black Elk Peak.
The drive to canonize Black Elk faces a multifaceted and potentially years-long process, but Mark Thiel, an archivist for Marquette University where many Black Elk materials are held, thinks the timing may be right for Black Elk's cause.
"While all causes are arduous," Thiel wrote in a summary of the effort, "the sainthood pathway and pace under Pope Francis is the best ever, and his advocacy for indigenous people and the earth resonates well with Black Elk who served Jesus and the Great Spirit while advocating for peace, love, and harmony among all of creation."
Saints can be martyrs — people who are killed because of their religious beliefs — or examples of virtuous living. Black Elk would fall under the latter category, having died a natural death in 1950 after working as a Catholic catechist for many years and leading an estimated 400 people to be baptized. He blended Christianity with the traditional Native American spirituality that he learned as a boy and young man during the years before his Oglala Lakota Sioux people were pushed onto the Pine Ridge Indian Reservation in the late 1800s.
For the canonization process to begin, Bishop Gruss must formally open the cause. Leneaugh said the bishop is giving the matter careful consideration.
Gruss could then send the tribunal's documentation to the Congregation for the Causes of Saints in Rome. The congregation's theologians would examine the evidence and decide whether to forward it to the congregation's cardinals and bishops, who would consider whether to forward it to the pope.
The pope could then confer the title "Venerable" on Black Elk. Next, if a miracle could be attributed to Black Elk and verified by a team of experts, the pope could give Black Elk the title of "Blessed."
If a second miracle could then be attributed to Black Elk and verified, he could be declared a saint.
There are potential miracles in Black Elk's life story. Some people who knew Black Elk, for example, reported that he predicted a sign would appear in the heavens upon his death. The night of his wake, people reported seeing an incredible celestial display in the night sky, and some interpreted it as God's blessing on Black Elk. A Black Elk biographer, Michael Steltenkamp, has also noted that the display could have been a Perseid meteor shower.
Sometimes, miracles emerge after a potential saint's death. That happened in the case of the first Native American saint, Kateri Tekakwitha, an Algonquin-Mohawk woman who lived during the 1600s and was beatified in 1980 by Pope John Paul II.
In 2006, the family of a boy stricken with flesh-eating bacteria reported praying to Tekakwitha and receiving a miracle cure. That was considered Tekakwitha's second miracle, and she was canonized in 2012 by Pope Benedict XVI. The canonization ceremony in Rome was where Black Elk's grandson, George Looks Twice, met Thiel, the Marquette archivist.
Thiel hopes Black Elk's canonization proceeds faster than the 332 years it took for Tekakwitha following her death.
"While causes have taken hundreds of years," Thiel wrote, "many today are completed in just ten years."